MODIFICATION AND REPAIR SERVICE STILL OPERATING.


   Welcome to Spot-On hunting lights. Please take some time to browse this site.

Spot-On lights outperform most commercially available "budget" style lights in performance, versatility, and quality. Spot-On Hunting lights are hand built in the USA using the highest possible quality components available.


T50
50mm aspheric glass lens
adjustable focus beam

1x18650 battery
one mode high only
50Kcd RED
red/green available
T50 IR 850nm and 940nm,  3modes high medium low
T50 2x18650 special order only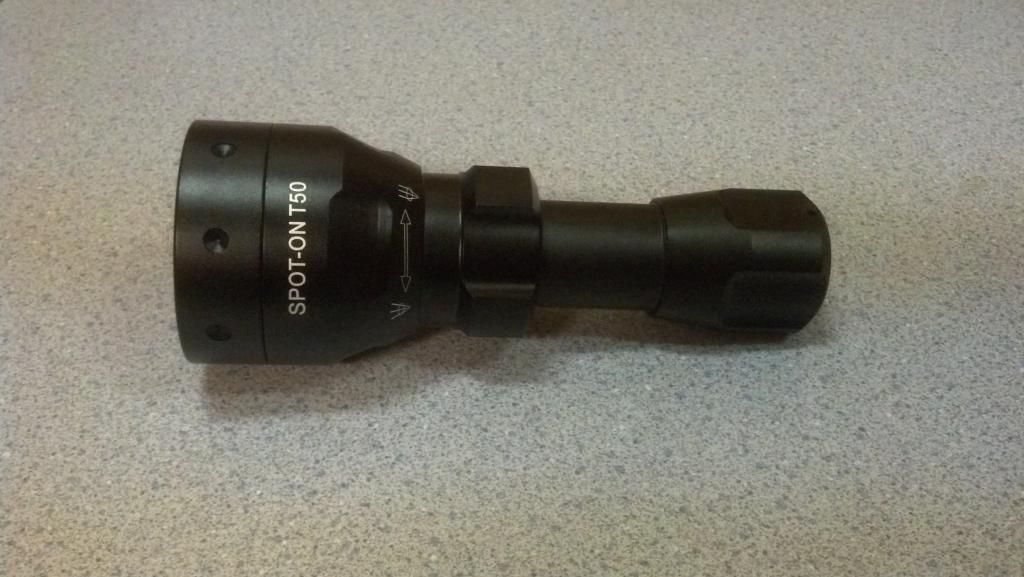 adjustable focus aspheric glass lens, tight beam for distance work, wide beam for close up.

one finger rotate to focus adjustment
angle of beam matches field of view of scope
one mode high only or three mode h-m-l w/memory.
bezel diameter 44.5mm
length 5.5 in
tube dia. 1"
battery: single 18650 li-ion battery
output: 22-24Kcd(22,000lux)red
options: RED,GREEN

T20 IR
T20 now available as an infrared illuminator
uses the absolute latest most powerful IR technology
 H-M-L modes and an adjustable focus beam gives the user the ability to be ready for any situation

fully focused, virtually eliminates washout commonly found in competitors IR illuminators

works with gen 1, gen 2, and gen 3 nightvision
really "wakes up" gen1 systems

850 nm wavelength or 940 nm for use with digital NV set-ups
T13-
discontinued until further notice

-prototypes and field testing new reflector based lights in progress

very powerful reflector based light
very nice beam profile, large round hotspot with some side spill

tactical forward clicky tail switch
side switch for mode selection on in H-M-L-strobe-sos(always turns on in high)
battery: 2 li-ion 18650 batteries
bezel dia: 63 mm
length: 9.3 in
tube diameter 1"
output:48-51,000Cd(red)
green output 85Kcd

options: RED,GREEN

TP-60
VERY NICELY MACHINED AND ANODIZED BODY
SINGLE 18650 LI-ION BATTERY
3 MODES H-M-L W/MEMORY
MAKES A GREAT HANDHELD SCANNER

OVER  2X MORE POWERFUL THAN A TYPICAL 501B W/RED EMITTER.

8.5Kcd(8500LUX) red

32MM BEZEL X 5.3 IN LONG
option: RED,GREEN

T43 HEADLAMP
   The T43 headlamp has a 42.5 mm bezel, it is a reflector based light. It runs on one or two 18650 li-ion batteries. This light is primarily used for hands free scanning. High-Low-strobe is the standard modes configuration.   The latest LED is reflowed on a solid copper star is installed.The T43 headlamp puts out approximately 19Kcd(19,000Cd).

primary use is hands free scanning
also good for entering and exiting a stand
modes are H-L-strobe
H-M-L modes optional

balanced design
bezel dia: 42.5 mm
battery: 1 or 2x18650 li-ion

output: 19Kcd(19,000 lux)red
options:RED,GREEN,WHITE
remote switches have been discontinued until further notice


due to liability issues i no longer offer batteries and chargers.

e-mail me for current sources of genuine batteries and chargers.